The Niiyaw Kit has been created to help language learners master words for body parts in Anishinaabemowin.
Ganawaabandan
You can watch and listen to Niiyaw Owe! read by Marilyn Copenace. Follow along, repeat after Marilyn, and enjoy listening to the story.
This list of body parts in Anishinaabemowin also helps learners talk about Niin, Giin, and Wiin in terms of whose body part is being talked about.
Play the classic Simon Says game using Anishinaabemowin words for body parts!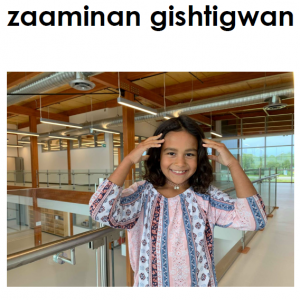 These flashcards are great for leading stretching activities and body breaks with learners!
This teacher guide helps instructors lead their learners through stretching activities.
Listen to Rose Marie Tuesday say the Zhiibiin! vocabulary words
Bizindan & Nagamon
This song encourages learners to practice speaking Anishinaabemowin by using body terminology to the classic Head, Shoulder, Knees, and Toes song!
More
Check out these other great resources from instructors and learners across Anishinaabe territory.